So, you've already decided to launch your own lawn painting business, but now you want to know how much to charge.
How Much to Charge for Lawn Painting Services Across the U.S.
Main Variables: Cost of Product, Time to Do the Job and Cost of Living
The U.S. national average for lawn painting ranges from 7 cents to 15 cents per square foot. The majority fall in the range of 10 to 11 cents per square foot. One factor in deciding what to charge is considering how much time you will likely take to do the job. Labor and the cost of living in the area the service is provided are among the top factors contributing to expense. Therefor, the charges for a thriving lawn painting business will depend on these factors.
Typically, one gallon of the Endurant Turf Colorant ultra-concentrated products (which includes Endurant Premium, Endurant Perennial Rye and Endurant Fairway) will treat 5,000 to 7,000 square feet of dormant grass. So, on average, and depending on the depth of color desired, a person's overhead cost in product will be less than 1 cent per square foot.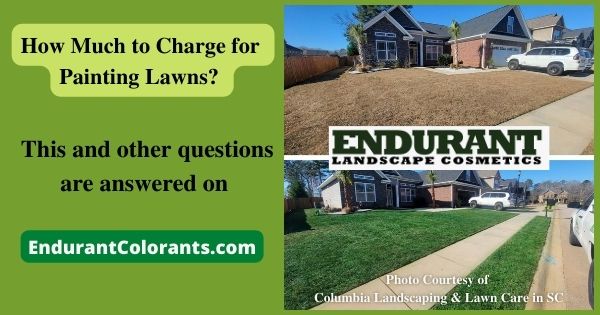 Other Factors to Consider When Pricing Your Lawn Painting Service
Other factors that will help determine rates for a grass painting service include the size of the property and the equipment used.
If you were to offer grass painting services to an entire large HOA (homeowners association), for example, they aren't likely to pay for a total cost of $100,000 to paint the community's grass. Instead, you may need to consider larger equipment to offer services on a larger scale. This way, you can minimize you main expenses, time and labor.
To keep business expense low at the outset, Geoponics recommends starting a lawn painting business with a battery powered backpack sprayer.
However in time, a lawn care, landscaping or lawn painting business owner may look for something larger and faster. A skid sprayer with a reel hose, for example, will hold more product and have higher pressure. This will create not only faster results, but better, more even applications. It's as if using a different paint brush, thus the result will look different.
Expanding A Lawn Painting Business to a Grass, Sod and Sports Field Painting Business
When a lawn painting business expands, or if interested in working on a larger scale at the outset, commercial applications of Endurant Turf Colorants can yield larger jobs. Painting sod farms and football fields requires another type of equipment for optimal results. For adding color to a sod farm for athletic field, a boom sprayer of some type is needed to cover the surface in a reasonable amount of time. When ordering Endurant in large quantities, such as pallets, contact us for large order discounts at info@geoponicscorp.com or 1-877-ECO-GROW.
Profitability in any of these areas is primarily based on how fast you can get it done.
Have More Questions?
Most questions about How to Start a Lawn Painting Business and How to Paint a Lawn are here on EndurantColorants.com. You can type your question or topic of inquiry in the search on the front page of this website. You can learn about the types products available for each grass type. There is more information as well on equipment found here.
If you still can't find what you're looking for online, reach out to use and we will take you through it step by step. Call 1-877-ECO-GROW or email info@geoponicscorp.com.
Everyone who does use Endurant gets great customer service. We are committed to pleasing customers and helping everyone learn how to use the product well for best results. We look forward to providing enough information to have a sound profitable business.