One of the more technical questions asked of Geoponics is which nozzles to use for applying Endurant Turf Colorants. This question is relevant when using very large sprayers common in golf, agriculture and turf.
One brand we recommend is GreenLeaf. And the models that provide the best even coverage of the entire leaf blade, front and back, are the Asymmetric DualFan Nozzles, including D04, D05, D06, D08, D10.
"This is by far our most popular nozzle for the golf course market," says Will Smart, owner of GreenLeaf.
Smart grew up with nozzles and their science, taking after his father, who was a nozzle salesman.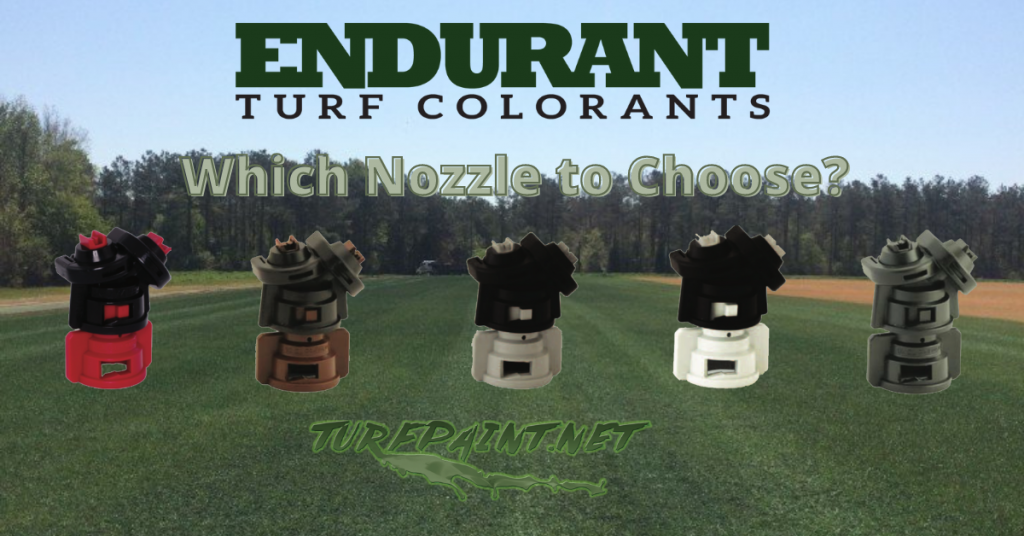 Why Asymmetrical Dual Fan Nozzles?
From Double to Quadruple the Coverage in One Pass
These nozzles are like getting two times the coverage in one pass. They provide even coverage to the front and back of the leaf blade.
If you have a spray boom that allows it, you could even get four times the coverage.
"Turn the nozzle around the opposite direction and alternate every other one," suggests Smart. "This will spray four times in one pass instead of two," he adds.
Not all sprayers will allow this depending on their mud flaps, he warns.
"If you can get away with it, do it to enhance the coverage even more," Smart says.
A Bit of the Science of the Nozzles
The Numbers
When using and calibrating the TDAD04, for example, the output will be 4/10 of gallon at 40 psi.
"So, in a minute you should have 4/10 of a gallon coming through that nozzle," explains Smart.
Compare that with the TDAD10 and you will have one gallon per minute at 40 psi.
Air Injection Nozzles
"People don't realize our asymmetric dual fan nozzles are air injected nozzles," says Smart.
Negative pressure sucks air in and it blends with the spray solution. The air size needs to be at least double the size of the product droplet. The air induction technology gets rid of very small droplets and very large droplets. This will creates uniform air filled pattern so all the droplets are the same size. This is how you get the best uniform coverage and it's all on target and not somewhere else.
If droplets are too small, they are likely to go off in the wind. You also don't want too large of droplets that are too heavy. Medium droplets are the goal.
Choosing the Best Nozzles for Endurant Application
The most common question about nozzles is sizing the nozzles, says Smart.
Geoponics' customers often reach out to our turf colorant technician, Brad Driggers, who assists with the calculations and steers people to the chart that will help them. There is also an app for that, CalzApp, if you're able to get a download of it for your phone.
Smart offers an example of a common question and scenario: "I want to go 3 miles per hour. The nozzles are 20 inch spacing. I want to put out 40 gallons per acre." You can put this information in the app and it chooses the nozzle for you.
Alternatively, use the chart to select the best one.
More on Nozzle Selection
While other nozzles may be suitable, Geoponics recommends Greenleaf for Endurant Turf Colorant application and offers them for sale in our store. However, another popular choice, for example, is TeeJet.
Spray two times in one pass with these Asymmetrical DualFan TDAD nozzles to achieve better coverage and reduce drift.
Greenleaf Asymmetric DualFan Nozzles can be used on self-propelled sprayers and walking booms to apply colorants, dyes and pigments to turf. The unique pattern provides front and back coverage of the leaf blade, which can be further enhanced by alternating every other nozzle on the boom.
Medium sized droplets are recommended.
Greenleaf's Asymmetric Dual Fan nozzles are air injected. Thus, a uniform air-filled spray pattern is created.
Asymmetric DualFan Nozzles
Perhaps no one at Geoponics has answered the questions about nozzles more than Driggers. So we get his suggestions on the matter.
"Nozzle selection will be relative to desired spray volume and how many gallons per acre of Endurant to be applied," says Driggers.
The chart above shares the nozzle size, volume at specific pressures, speed and spacing for the optimal application and droplet size. We are looking for medium size droplets for colorant applications, he reminds us.